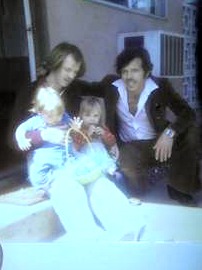 I wanted to show you something. This morning, my birth sister sent me a couple of scanned pictures. Pictures I'd never seen of me and David and our birth dad–his name was Timothy, but his friends called him Tony. We're sitting on his lap–the other groovy fellow is his brother. I have very few pictures of us when we were little so this is the coolest thing! I love all the sunshine in David's hair. And look at how long Tony's hair is! And the amazing thing is, he looks soo much like the Daddy God gave me, you know, the one who adopted us! It's just crazy.
There's so many things I wanted to ask him. Like, what did he want to be when he was little? And I wanted to hear his story. But, he's gone now and last night I cried. I hardly knew him and it feels strange to say, but I'll miss him. And last night as I was thinking these things, I couldn't help but remember that I still have this amazing Daddy that I can ask all these questions to. Because I've never asked my Dad these things, either. So, I have this new zeal to find out all about the Dad I've got here with me. I think I'll email him today.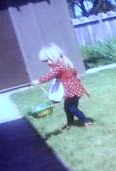 Here I look like I was about Gideon's age now. And I see my little Hopey has the same hair! (Well, kinda–it's actually hard to tell, but I think I see it.) Anyways, I just had to show you because I'm tickled pink.
God is so amazing, folks. He does such crazy things.
That's all. Thank you very much for listening.