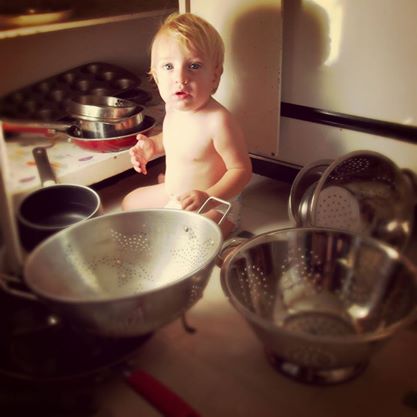 I've got this one kid in particular who just happens to be a real house-wrecker. (Well, they're all house wreckers but this one…he's just the worst.)
He doesn't mean to be, I don't think. It's just they all seem to go through this exploratory stage right about the time they're two whole feet tall, and they really do need to examine every single content in the Tupperware drawer.
And this kid, he gets a strange compulsion to pull every article of clothing out of the chest of drawers, say oh, five times a day to see if that one pair of underwear will fit around his scrawny little head.
And then he notices the strangest things. Like that one pile of laundry in the bathroom, that looks an awful lot like that other pile of clothes over there by Daddy's closet. So I suppose he decides that the most probable solution to this baffling predicament, is to go ahead and transfer the entire laundry pile from the bathroom hamper over to the bedroom closet. Meanwhile, his Mommy finds herself a tad bewildered when she discovers the pile and she stands there wondering who in the world made this mess? And how in the world is she supposed to know what's dirty and what's clean?
It can be exhausting.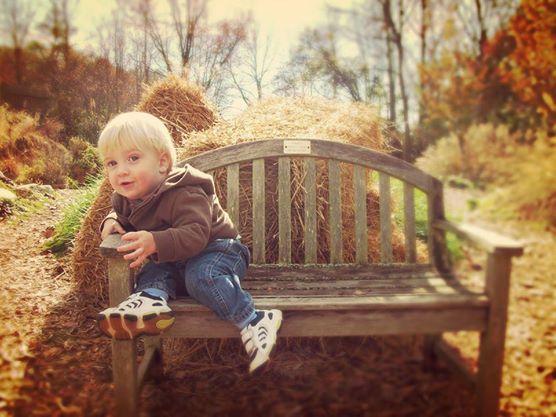 So exhausting that I'd really like to scoop that little ragamuffin up and demand that he only play with a hand full of toys for the whole rest of the day, and that's it. Only he's too little to quite get it, and he doesn't want the toys, anyways. He wants the crackers out of the pantry and the spoons out of the silverware drawer. I'm starting to feel a little overwhelmed, because that guy is pretty adept at scooting the kitchen chair to anywhere on the linoleum that he sees fit, to make his ascent.
So, today, when I was at my wit's end, I just sat down on the kitchen floor with that kiddo in my lap and cried. Just a little. Then, I talked to the Maker of that little ragamuffin and that's when everything changed . Or at least, something inside me changed.
It's like Jesus whispered into me that the most important thing I can do today is love. And it's okay to sit down and breathe for a spell, and just enjoy this fascinating little human right here in front of me. I can love this little guy who is so curious about life and I can be patient with him and teach him not to keep dumping all our stuff out on the floor and how to pick up.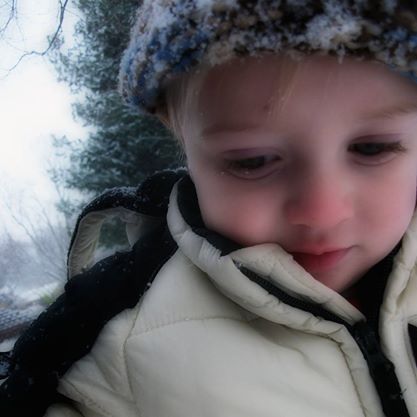 So, I held my boy as he gulped down his milk from his sippie cup and I decided, by God's good grace, that I'd keep taking time to wrestle and cuddle and remember that he's more important than shiny windows and sparkly floors.
I imagined a little bit further down the road that he'll probably want to mow the lawn someday, and he'll be big enough to take out the trash and eventually he won't do that thing where he backs up, slowly, slowly and then plops down in my lap. I'll miss that.
And someday, hopefully a day really far away, he'll be tall and he'll have these muscles, and he'll come visit his ole' gray-haired Mom and Dad and maybe even carry us when we're not so strong and capable of things.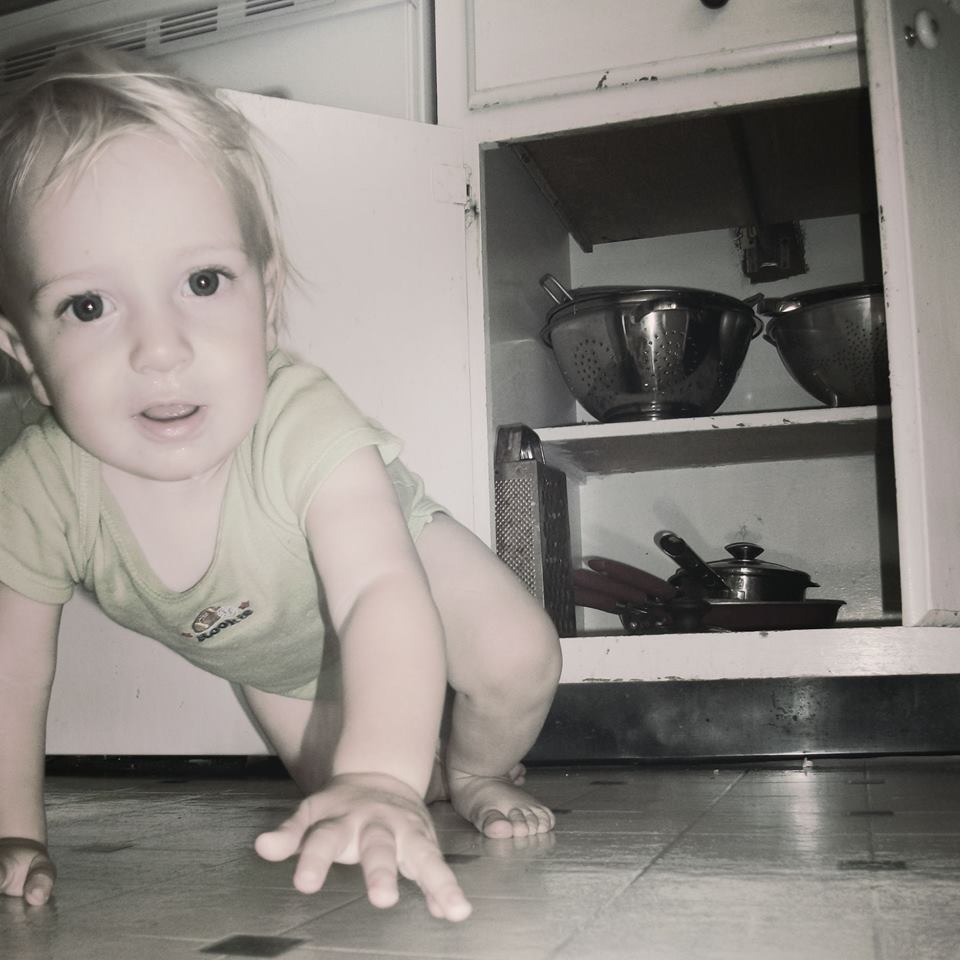 For now, I'll just keep smooching his soft cheeks and toting him up and down the stairs and we'll pick up all these messes and try to see it more as making art, or choreographing some wild chaotic dance.
I can keep doing this, I know. Because I've got a God who keeps His door wide open. And when I'm plumb tuckered out and don't have much left to give, He invites me on in and restores my soul that's been depleted.
I've found Him faithful, this Maker of ragamuffins and tired mommas. He pours His love right back in.
"And hope does not put us to shame, because God's love has been poured into our hearts through the Holy Spirit who has been given to us." (Romans 5:5)